Everyone knows Princess Leia Organa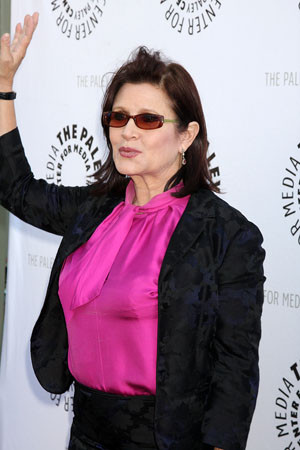 Carrie Fisher is most widely known to the science fiction community for her portrayal of Princess Leia Organa in the first trilogy of Star Wars.
What many fans may or may not know about her is that she is also a best-selling novelist and screenplay writer, in addition to having battled prescription drug and cocaine addictions, weight gain, and bipolar disorder.
While Hollywood often attempts to paint actresses as either squeaky-clean paragons of virtue or fallen, wild women, Carrie is decidedly candid about her struggles and triumphs over the course of the last three and a half decades. Never one to pull a punch, Carrie is unafraid to speak her mind and often does so in shocking fashion.
Birth, Parentage, and Childhood
Carrie Francis Fisher was born October 21, 1956 in Beverly Hills, California. Her parents were singer Eddie Fisher and actress Debbie Reynolds. She was the first of two children from their union, with the second being her brother Todd. The couple divorced when Carrie was a toddler. Of this contentious divorce, Carrie has written that the phrase 'Star Wars' sums it up perfectly. Her father moved on to wed Elizabeth Taylor after the death of her husband, which Carrie describes as saying he "rushed to her side, gradually moving to her front." The couple later divorced, leaving Eddie free to wed actress Connie Stevens. With Stevens, he had two more children, Joely and Tricia, who are half-sisters to Carrie.
With her father moving on, Carrie was raised largely by her mother. Reynolds married Harry Karl, who gambled and made a multitude of poor investments. Throughout this trying childhood, Carrie was simply expected to follow her family roots into show business. Of this, Carrie has said "I always wanted to do what my mother did – get all dressed up, shoot people, fall in the mud. I never considered anything else." She was appearing alongside her mother in Las Vegas shows by 12 and appeared in a Broadway revival of Irene when she was 17.
Star Wars, Gaffer's Tape, and Marching Powder
The late seventies and early eighties saw Carrie's schedule crammed to the rafters with Star Wars appearances and filming. In a 2006 Vanity Fair interview, Carrie claims she won the role "by sleeping with some nerd." When pressed as to whom, she quipped "I took too many drugs to remember." As it was the late seventies, dabbling in cocaine in Hollywood was not at all shocking or surprising. However, Carrie soon realized "I was doing a bit more drugs than other people and losing my choice in the matter." As to whom else in the cast was snorting with her, she declined to name names. It wouldn't be until she suffered an overdose six years after the second film released that she realized she needed help.
During shooting, Carrie had a triple whammy of annoyances to endure. First of all, her tiny stature made her a foot shorter than Harrison Ford. She had to stand on props, boxes, whatever Lucas could find to make her fit in the frame. Second, the hated double-bun hairdo. Carrie disliked it intensely, but didn't say anything because she didn't want to be fired. After the first film, it was too late for her to complain. Finally, instead of finding someone who knew how to make the correct undergarments, the wardrobe department simply used gaffer's tape where a bra was clearly needed. About this, Carrie simply said, "as we all know, there is no underwear in space."
Of the character of Leia, Carrie isn't afraid to be critical. "Leia is not a real character," she said. "She is more of a caricature, and is somewhat one-dimensional. It's not really possible to write out a list of Princess Leia's likes and dislikes. I do know her favorite color, though, it's white. She wears white all the time. But that doesn't help me much." No matter how awesome Wars is, it's hard to disagree with the woman who played her through three feature-length films. However, Carrie is very proud to be involved in such a huge and influential project, saying "It was fun! I was young. People want it to be a problem for me. No. Those are great movies. Why shouldn't I be proud of being in that?"
Post Star Wars Projects
After Star Wars wrapped, Carrie was quoted as saying "I was born into big celebrity. It could only diminish." While she continued to act in smaller parts, she also began to re-write scripts and work on her own novels. Concerning acting, she has said, "acting engenders and harbors qualities that are best left way behind in adolescence. People-pleasing, going on those interviews and jamming your whole personality into getting the job, ingratiating yourself to people you wouldn't f***ing spit on if they were on fire. "
While other actresses may smile and simper to get that next role, Carrie tells it like it is. Her candid revelations of her thoughts are unusual in an industry where lying is indeed a paying job. She has been outspoken concerning her addictions to both prescription medications and cocaine, her bipolar disorder, and her recent struggles with weight gain.
Carrie has published a total of four novels, including the semi-autobiographical Postcards from the Edge. She has also done uncredited script rewrites and done plenty of bit parts, in addition to performing her own one-woman play entitled Wishful Drinking. Recently, she has been on several episodes of Family Guy, voicing a character named Angela.
At 54 years old, Carrie Fisher is very comfortable with her voice, both as a woman and an author. She is refreshing and candid in that she will tell anyone exactly what she thinks, and has been doing so for over 30 years. Whether you're searching for her next novel at the bookstore or standing in line for her autograph at a Star Wars convention, you can be rest assured that you're not going to encounter someone who weighs every word against what her publicist will think about it.
Related Posts :
Category: Women of Sci-Fi Spotlight