A beautiful lady with a successful and varied career.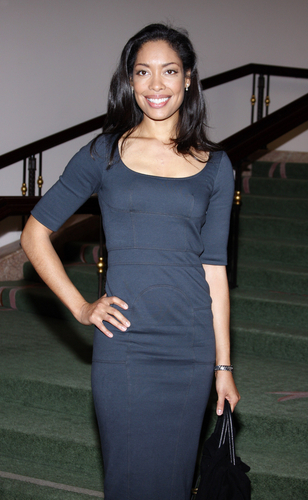 A veteran of the science fiction and fantasy genres, Gina Torres has a list of credits a mile long. Chances are, if you haven't lived under a rock for the past two decades, you recognize her from Xena: Warrior Princess, Hercules: The Legendary Journeys, Firefly/Serenity, or one of the three Matrix projects in which she's played a role. While not engaged in her successful and varied career, she is also a wife and mother.
Early Years and Childhood
Gina was the last of three children in a Cuban-American family. Her father was a type setter for two newspapers. She was born on April 25, 1969 at Flower Fifth Avenue Hospital in the Big Apple, where she would be raised and later attend Fiorello H. LaGuardia High School of Music and Performing Arts. At first residing in Washington Heights, the family later moved to the Bronx where Gina studied opera, gospel, and jazz singing styles as a mezzo soprano. Although she applied for and was accepted at several universities, financial constraints made it impossible for her to attend. She decided, instead, to focus on her performance aims.
Beginnings in Acting
As with most actresses not born into the business, Gina began by playing small roles on television series and, in her case, a soap opera. In the late nineties, she appeared in two episodes of Law and Order, one episode of NYPD Blue, and had a run of 17 episodes on the popular daytime soap One Life to Live. In 1996, she began to creep on to the radar of the fantasy world with her portrayal of LaMayne on the film Dark Angel. Throughout these small roles, she was proving herself to be reliable, warm, and at-ease in front of the camera. Her gorgeous skin tone, expressive eyes, and statuesque height of 5'10" didn't hurt, either.
The next year, in 1997, she was Cleopatra in an episode of Xena: Warrior Princess. She followed up on Xena's 'sister show' Hercules, playing Nebula a total of eight times in the seasons stretching from 1997 to 1999. In one Hercules episode, she also portrayed Beth Hymson.
Cleopatra
In 2000, Gina stepped up to a leading role in Cleopatra 2525. The futuristic sci-fi romp featured three ladies, with Gina's character, Helen 'Hel' Carter, being one. The series only ran for 28 episodes in syndication, but Gina was featured in every one. Although the plot was laughable and often resembled an hour show crammed into a half-hour slot, the acting was considered solid.
Regarding the rough-and-tumble nature of the action-packed character she has played, Gina said "I think that these characters can't help but be empowering to women because of their strengths and convictions." She studied martial arts to prepare for her roles, and did not use stunt personnel very much, preferring to do it herself.
Firefly/Serenity
In 2002, Gina signed on to play Zoe Washburne in the short-lived Joss Whedon space western series Firefly. Zoe, a rock-solid second-in-command, was a fan favorite. Married to Wash and quite close to Mal, her character piqued fans' interest from the beginning of the series. Of the role, Gina has said  "She is the most balanced person on that ship. She has a loving marriage (to Wash, the pilot of spaceship Serenity) and a job she embraces every morning. She likes being a soldier. She's good at it." She reprised the role for the 2005 feature-length film Serenity.
Throughout her career, Gina has rarely used stunt doubles, preferring to use her own strength. "You have to have a spirit of warrior in you," she said in an interview with USA Today's Robert Bianco. "You're going to be facing battles as a woman in this industry and a woman of color. You have to be prepared to face battles of respect and pride and sexuality, and you can't tire of fighting." It was this fighting spirit that made her so attractive in many of the physically-demanding roles in her career.
Personal Life, Marriage, and a Child
Around the same time, Gina met actor Laurence Fishburne when they were both working on The Matrix Reloaded. Although he is eight years her senior, the two began dating in February of 2001. The next fall, in September of 2002, the couple were married in The Cloisters in New York City, a gorgeous branch of the Metropolitan Museum that was built to resemble French abbeys.
In 2007, the couple welcomed their only child to date, a daughter they named Delilah. While Fishburne already had a son, Langston, and a daughter, Montana, from a previous marriage with Hajna Moss, Delilah remains Gina's only child.
Further Career
Soon after wrapping on Firefly, Gina moved on the more episodic television on popular and not-so-popular television series such as 24, The Shield, Alias, Standoff, Boston Legal, and Bones. However, it wasn't until the 2010 direct-to-video animated movie Justice League: Crisis on Two Earths came out that Gina was once again in our cross-hairs.
Gina loved working on the voice of Super Woman, saying "There aren't really any skinny b*tches in the world of comic books, they've got muscle." As for the role of females in the mostly male dominated world of comic books, she explained
"what's great about this whole genre is that it's all about sticking out. It's all about being magnificent to the highest power."
The same year, Gina signed on to voice Arachnid on the wildly popular and successful series Transformers: Prime. The series has been confirmed for a second season and will have its season debut on November 28, 2011. A feature film is already in tentative talks.
Gina has so much experience as both a physical actress and a voice artist that it's difficult to enumerate every project that has benefited from her involvement. She has shown herself again and again to be a strong, reliable talent for a wide variety of science fiction and fantasy projects, in addition to guesting countless times on police procedurals, dramas, and other genres. No matter what she does next, be it acting or voice work, my DVR is programmed and ready!
Related Posts :
Category: Women of Sci-Fi Spotlight