My Christmas List: Samsung Galaxy Tab 10.1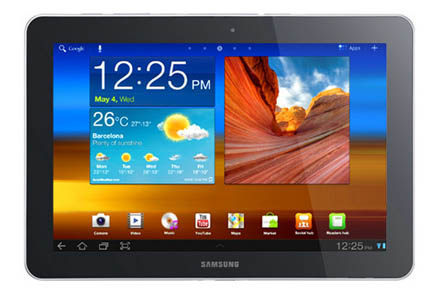 While you are looking for the latest new technologies this Christmas, you are going to find that the Samsung Galaxy 10.1 tablet PC is going to be one that is going to fly off the shelves. Offering a large screen, great new features and apps, it is the perfect-sized tablet for surfing the web, watching videos or movies, working on a project for school or work, or doing a variety of other projects. The Galaxy 10.1 is going to be a hot item that consumers are going to be looking to purchase.
Whether you are looking for the powerful Android backing, or a cheaper option to other tablets on the market, including the iPad 3 or the new Blackberry tablet, you will find that the Galaxy is going to offer several of the same features, apps that can be purchased or downloaded for free, depending on the app, and many other features that consumers are looking to find when shopping for a new tablet. If you want to download e books, watch a new movie, watch live videos on You Tube, connect to friends on social media sites, or do a variety of other tasks, you are going to love the ease of use, and the wi-fi connections which the 10.1 is going to offer.
Samsung Galaxy Tab 10.1 Specs
Support for Verizon's 4G LTE Network
10.1 Widescreen Display
2 cameras – 3MP Rear Facing (also 720p Video) and 2MP Forward Facing
1280×800 WXGA LCD
16GHz Dual-Core NVIDIA Tegra 2 Processor
16GB / 32GB / 64GB ROM
1GB RAM
You will also find that this is going to be a much more affordable option on the market this holiday season than are other tablets, such as the iPad or Blackberry, or even the new Asus Eee pad. You are going to be able to get the same exact features, the great screen size, the portability, and all the features that one is looking to find in a new tablet, yet you are going to find the cost savings that you are hoping to find.
So, before making the choice for your new tablet PC, make sure that you check out the 10.1 tablet, and compare its great features with others on the market. You will not only find great new usability, but you are also going to find the cost savings you are hoping to find.
Related Posts :