The Avengers released last weekend to intensely long lines and intensely satisfied viewers. Breaking pretty much every opening weekend record, the highly anticipated 4 way crossover super movie kept fans wanting more. In most theaters, even the later Matinee showings came with long lines and waits. Action packed, with enough of the trademark comedy Marvel has been known to interject, it's no wonder that it will be "the" summer blockbuster.
As a crossover between three highly successful and one (sorry Hulk!)fairly successful franchises The Avengers had a lot of potential to go either way. It could have easily been a fame and hype studded train-wreck, just as easily as it could have been a blockbuster. Luckily director Joss Whedon seemed to go with the strength of the various lines, and not merely stop with the weaknesses.
Robert Downey Jr. returns as Iron Man, who, as the biggest name associated with the picture, threatened to overshadow the entire movie. Instead keeping it on an even keel and saving the trademark Iron Man one liners for dramatic effect. The cast avoided this neatly by simply delivering a solid romp of an action/adventure movie.
Chris Hemsworth returns as the Asgardian Thunder God Thor. And seemed a bit more at ease in the role than he did in his own movie. Chris Evans likewise seemed slightly more comfortable wearing the Captain America costume and delivering some of Cap's trademark cheesy lines and Forties inspired dialog. Evans', becoming a seminal nerd-oriented-movie superstar in his own right in recent years, deserves full credit for bringing a viable Captain America to the table. Lastly, Mark Ruffalo rounds out the crew as the newest interpretation of the Incredible Hulk. In my opinion, and much to my surprise, Ruffalo surpassed previous Hulk's Edward Norton and Eric Bana.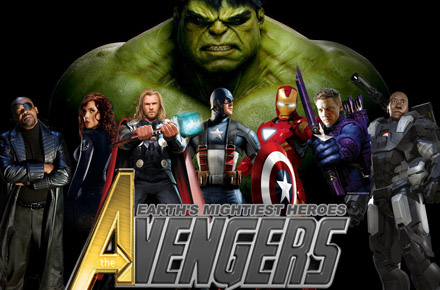 The Avengers isn't the most well written movie in history. It is not an exactly faithful retelling of the Avengers origins, nor "The Ultimates" remake it is loosely based on. It is however, a lot of fun! More fun than I expected, and so much fun that I intend to go see it in the theater again, when the lines finally die down.
Related Posts :
Category: Movies and TV