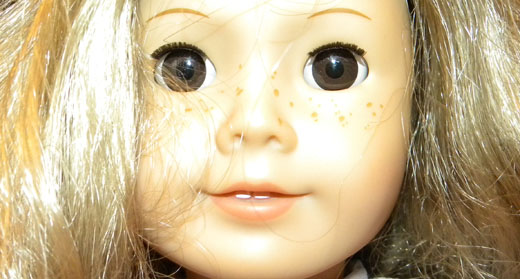 I have been creeping my kids out lately comparing their American Girl dolls to Talking Tina. My wife hates me right now.
Amazingly, nobody else remembers that episode.
I figure some of you young whippersnappers need an education of the black-and-white goodness that is The Twilight Zone.
Talking Tina
Creepy Fun
If you're not old enough to remember when the show aired on prime time, there's a good chance you've seen at least part of an episode of the original Twilight Zone television program. From 1959 to 1964, more than 150 episodes of this unique show ran on CBS TV. The series is still popular in reruns and usually airs (fittingly) in the middle of the night.
Hosted by the enigmatic and compelling creator of the program, Rod Serling, the Twilight Zone offered viewers weekly excursions into the world of the bizarre and dark side of humanity in anthology form. During four of the five seasons the show aired the episodes were a half hour in length, for one season the program was shown in one hour episodes.
At the beginning of each episode Mr Serling would announce to viewers that they were about to "enter another dimension. A dimension not only of sight and sound, but of mind." At the closing of each program, Mr Serling would again narrate.
Many of the stories presented on the Twilight Zone focused on everyday people who either through intent or circumstances, cross over into skullduggery, misdeeds and untoward situations. With a mix of sci-fi, drama, suspense and horror, the stories that were presented on this show were well written and usually featured surprise or twist endings.
Some of the finest sci-fi, drama and suspense writers of the era wrote episodes of the Twilight Zone, although Mr Serling wrote most of them himself.
Here's an old-school website with loads of show info. http://twilightzone.org/index2.html
Related Posts :
Category: Movies and TV