Star Wars Swag: R2D2 Edition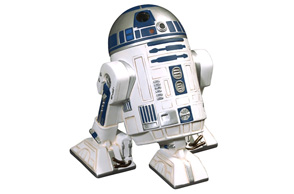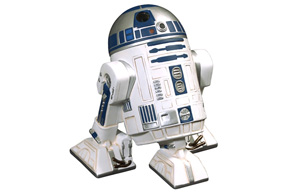 The world's most-beloved beeping trash can has been the subject of everything from t-shirts to lunch boxes ever since the first movie premiered on May 25th, 1977. Inducted into the Robot Hall of Fame in 2003, Artoo and his robotic life-partner C3PO have appeared on Sesame Street, on USPS boxes, and were the co-hosts of the Imax film Special Effects: Anything Can Happen. We found some awesome R2D2 memorabilia at Entertainment Earth for the discerning Wars geek!

This bank is approximately 11 inches tall and is exquisitely detailed by sculptor Oluf Hartvigson. Statuettes of this quality can sell for hundreds of dollars, but this reproduction sells for a fraction of the cost and has the added bonus of holding your coins. Whether it's for a Wars-loving child or as a conversation piece in your study, this bank is the coolest loot-stashing device in 12 parsecs.

Forget teddy bears! This plush is 15+ inches tall and 100 percent soft and pliable. Cuddle up to this soft little droid, or display him on the included stand. A perfect gift for the fan in your life, this stuffy is sure to please.
Back Buddy


This back buddy is not only cute, it's useful for carrying around all of your favorite Star Wars gear. Collectible and squeezable, this plush tote is fully-detailed and ready to help you cart around all of your stuff. This is the droid you're looking for!
Bobble Head


Finally, this adorable bobble head is just perfect for the collector that has everything. At 5 inches tall, this is a miniature version of the stubborn little droid that could. This bobble-head will wobble on your desk at work or at home.
All of these Artoo collectibles are guaranteed to be in 100 percent mint condition and are backed by a 90-day return policy. Check them out today and get a little more droid in your life.
Related Posts :