Where Are They Now? The Ladies of Star Trek: TNG Edition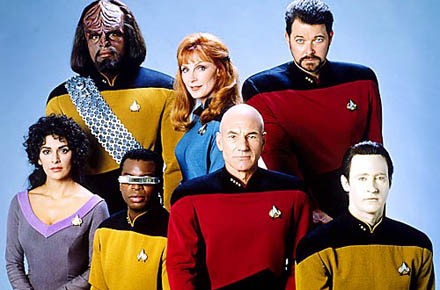 It's been 17 years since Star Trek: The Next Generation wrapped after seven successful seasons and a huge collection of awards including 18 Emmys. The series also spawned three successful feature-length films. We've already explored what's going on with the gentlemen of the series, but what about the lovely ladies of the Enterprise D? Read on for the scoop.
Denise Crosby
Character: Tasha Yar
The grand-daughter of legendary Bing Crosby, Denise was only on TNG for 22 or 178 episodes before departing. Although her character was omnipresent, Crosby reportedly grew disillusioned as the series wore on and there was no development. Her character was unceremoniously murdered by an alien life form. She later returned in several roles, including Tasha again thanks to an alternate timeline in which the character had survived. On June 17th, 1998, Denise and her current husband Ken Sylk welcomed their only child, a son named August William Sylk. In the early months of 2010, Denise appeared in Tennessee William's Orpheus Descending where her unconventional interpretation netted her an accolade in the Los Angeles Times.
Gates McFadden
Character: Beverly Crusher
Both a talented dancer and puppeteer, Gates McFadden worked with Jim Henson as choreographer for the 1986 fantasy film Labyrinth before reading for the part of Dr. Crusher. The role was originally pitched with Crusher being the love interest of Captain Picard and being integral to the crew. When the story line failed to materialize, Gates was discharged from her role and replaced for one season by the ineffectual and disliked Dr. Pulaski. She was eventually persuaded to return to the franchise and reprise the role until the series' end and in the feature films. Gates is known to be one of the more private cast members, sharing very little about herself. She appeared in several commercials for Microsoft in the spring of 2006. She is also listed as a faculty member at the School of Theater at the University of Southern California.
Marina Sirtis
Character: Deanna Troi
Having played Deanna Troi for all seven seasons and in the feature films, Sirtis is overwhelmingly positive about the role and her place in the Star Trek universe. She is also one of the busiest performers from TNG, rivaling co-star Patrick Stewart for sheer volume of work. Lately, Marina still takes time to attend Trek conventions while taking guest roles in series such as Grey's Anatomy and Make It or Break It, as well as providing voice work for both Family Guy and The Cleveland Show. During the recent tsunami in Japan, Marina appeared on CNN and placed a plea on her official website, asking for help for animals affected by the disaster.
Majel Barrett
Characters: Lwaxana Troi and the Computer
While not credited as a starring character, her's was the voice of the onboard computers in nearly every Star Trek installment. As a younger woman, she played Nurse Chapel in the original series. On TNG, she portrayed Deanna's mother, a headstrong woman who had unrequited amorous feelings for Captain Picard. Often called 'The First Lady of Star Trek', Majel also did voice work on Family Guy, Hamlet A.D.D., and the 2009 Star Trek movie in the last years of her life. The final movie was released following her 2008 death from leukemia complications. Her cremated remains will be rocketed into space, as per her wishes, sometime in 2012.
The ladies of TNG live on to this day in a 49-disc DVD collection released in 2007 by CBS Home Entertainment. A possible conversion to Blu-Ray, while quite difficult to accomplish, may also be in the works. Watching any of the reruns, it's almost impossible to believe so much time has passed. The work of these fine ladies helped to ensure that we will 'boldy go' for generations to come. Indeed, we have.
Related Posts :