Women of Sci-Fi: Katee Sackhoff
Known by most fans for her portrayal as Kara "Starbuck" Thrace on Battlestar Galactica, Katee Sackhoff is every nerd's fantasy girl. She has an impressive resume of acting and voice credits, a tomboy-next-door appeal, and she named her dog Meatball.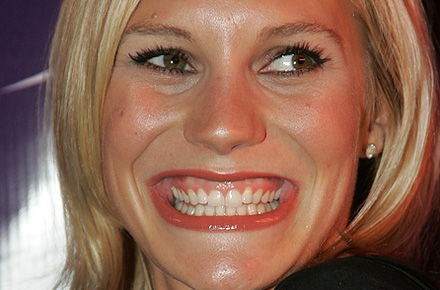 Every nerd's fantasy girl.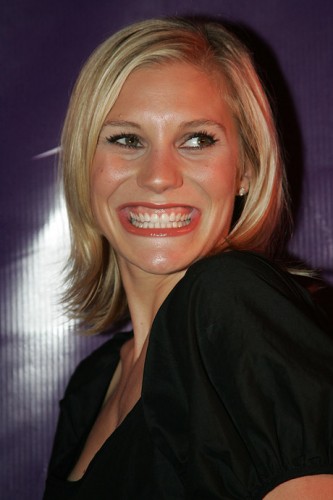 Known by most fans for her portrayal as Kara "Starbuck" Thrace on Battlestar Galactica, Katee Sackhoff is every nerd's fantasy girl. She has an impressive resume of acting and voice credits, a tomboy-next-door appeal, and she named her dog Meatball. Instead of the mani/pedi, fussy blond stereotype, Katee lists playing pool, watching movies, and working out among her hobbies. Where did she get her start? What projects are on her radar since BSG wrapped in 2009?
Not a Hollywood Tyke
While tons of great actresses like Zoe Saldana, Natalie Portman, and Morena Baccarin were practically bred for the limelight, Katee was born in Portland, Oregon to a salt-of-the-earth couple with normal jobs. Her mother was an ESL coordinator and her father was a land developer. Her older brother Erick co-owns a car modification shop. Instead of studying drama, taking ballet from the time she could walk, speaking five languages, or attending ritzy foreign-language 'academy' high school, Katee was originally more interested in competitive swimming at her public high school until a knee injury sidelined her.
Growing up, Katee has stated that the family's television set only received three channels. The limited options included watching the mating rituals of beavers on public broadcasting, watching Dynasty with her mother, or watching Star Trek with her Dad. "I was addicted to the original Star Trek when I was growing up, because of my dad," she said.
Interest in Acting and Breakthrough
While still in high school, Katee was involved with productions of Bye, Bye Birdie, Oliver!, and Fiddler on the Roof. Bitten by the acting bug, she began to consider acting as a possible career choice and thought about moving to California upon graduating from Sunset High School in Beaverton, Oregon.
Katee got her first role in the made-for-television Lifetime movie Fifteen and Pregnant alongside acting veteran Kirsten Dunst. It was filmed before Katee graduated, and helped solidify her decision to pursue a life in front of the camera. She moved to California and promptly became a regular on the MTV series Undressed, portraying Annie. She followed up with a series of small roles on both television and film projects such as Halloween: Resurrection, The Education of Max Bickford, and My First Mister.
Battlestar Galactica
Katee has a distinction few in the biz can claim: she aced a role despite being the wrong gender. Starbuck, the confident Viper pilot of Battlestar Galactica, was originally a man. At first, Katee came under intense fire for this, as if the casting decision was somehow her fault. The actor who had portrayed the male Starbuck in the original series was uncomplimentary, to which Katee quipped
"if you add up the amount of time Dirk Benedict spent playing the character, not the years obviously but the number of episodes, I'm more Starbuck than he is, so put that in your pipe and smoke it."
During the series, which ran from 2004 to 2009, Katee made the character of Starbuck her own. The camera operators gave up on trying not to shoot her three tattoos. She smoked the cigars and perfected the swagger crucial to the role. Forget plunging necklines, kittenish, coy platitudes, or even unrestrained hair, Katee was easily the most believable female fighter pilot to ever grace the screen.
Battlestar Galactica netted Katee a Saturn Award nomination for Best Actress on Television, but she was ultimately defeated by Jennifer Love Hewitt. However, this was not the only gain Katee garnered, as she also met one of her best friends on-set. At first, Katee's thoughts about Tricia Helfer were reserved. Katee thought she would hate her. The two became fast friends.
The ending of BSG was kept under such tight lock and key that Katee had to sign a nondisclosure statement regarding the fate of her character. This did not bode well, as she explained "Isn't that horrible? I called David about on day two crying, going, "I can't do this. I'm lying to my family and they're all so upset."" Eventually, the truth was leaked to take some of the pressure off of her. Dishonesty is not one of Katee's strong suits, apparently.
Cancer Diagnosis
As the filming for BSG was drawing to a close, Katee began to feel weak and tired easily. She was found to have thyroid cancer, which was successfully removed. It thankfully had not spread and she didn't require radiation. She is in remission but continues to be monitored, as is standard for all cancer survivors.
Voice Work and Other Projects
Gamers will recognize Katee's voice as a female Marine on Halo 3. She also helped with the marketing campaign for another video game entitled Resistance 2. She also made appearances on such nerd favorites as Robot Chicken, The Big Bang Theory, Futurama, and was a regular for 20 episodes on the Fox serial 24.
Recent Roles and Beyond
In late 2010, Entertainment Weekly reported that Katee had signed to portray Detective Reed on CSI: Crime Scene Investigation. Her performance was lauded as she once again perfected the tough-as-nails role while still holding on to her female aspects. She has also reportedly accepted roles in both an A&E series based on the novels of Craig Johnson entitled Longmire, as well as a werewolf action thriller called Growl.
Katee Sackhoff is a Trek-loving, cigar-chomping badass who will hopefully grace the sci-fi scene with her presence for decades to come. At 31, she has many more decades left to impress her hordes of fans.
Related Posts :