Women of Sci-Fi: Michelle Forbes
Michelle Forbes is a dark-haired statuesque sci-fi bit of loveliness, and is sure to have starred in the dreams of many a science fiction fan with her seductively distinctive voice and variety of roles.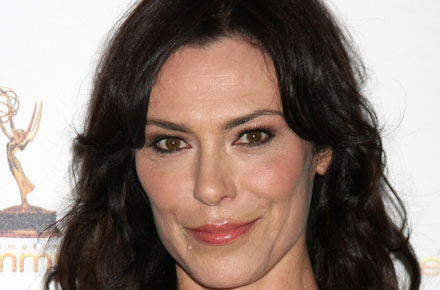 Strong and Beautiful.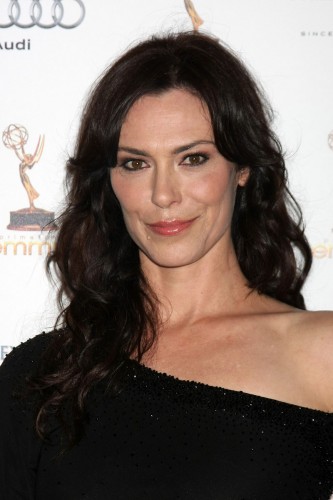 Michelle Forbes is a beauty who has been perfectly cast in roles such as Ro Laren, a Bajoran Starfleet officer in Star Trek: The Next Generation, in addition to Maryann on True Blood and Admiral Helena Cain in several episodes of the sci-fi series Battlestar Galactica. As a dark-haired statuesque sci-fi bit of loveliness, she is sure to have starred in the dreams of many a science fiction fan with her seductively distinctive voice and variety of powerful roles.
Forbes was born January 8 in 1965 and won the guest starring role of Dara on Star Trek: The Next Generation for the episode labeled Half a Life. She made an impression on the creators and was given the part of a recurring character named Ro who first arrived on the episode titled Ensign Ro. She appeared in seven more episodes. Sadly, her last showing was in the episode Preemptive Strike in which her character unfortunately defects to the Maquis. Forbes was asked to reprise the character of Ro on Star Trek: Deep Space Nine, but she declined the offer stating that she was uninterested in a permanent television role. The creators knew a striking character when they had one and offered Michelle a second chance to return to the franchise on Star Trek: Voyager, but she again disappointed her fans and rejected the offer.
Forbes achieved success in films and appeared in the 1994 dark comedy Swimming with Sharks in addition to The Road Killers and the science fiction feature film Escape from L.A. A movie that also featured Shelly Desai and Leland Orser, several of her Star Trek co-stars.
Forbes' career had an interesting start. She was born in Austin, Texas and became an accomplished ballet dancer after receiving professionally training at the Performing Arts High School in Houston. Her dancing background explains a slender, trim physique that hasn't changed much in the years that Forbes has spent in the entertainment industry.
Forbes took a vacation to New York City when she was just 16 and on a whim, she auditioned for a film. She didn't get the part, but signed on with the William Morris Agency, which began her acting career in the big city. It took her a few years, but finally at the young age of 22, she won the soap opera role of playing twins, naturally, on Guiding Light. She was both Sonni and Solida on the popular CBS daytime television show and even earned a Daytime Emmy nomination for her talents.
Michelle Forbes is a versatile actress who has effectively proven her ability to portray rolls that are harsh and forthright along with characters that are gentle and soft spoken. She was cast in the thrilling film Kalifornia in 1993 with David Duchovny, Brad Pitt and Juliette Lewis. This gained the actress notice in the form of a nomination from the Academy of Science Fiction, Fantasy & Horror Films.
She never completely abandoned television and appeared on shows such as The Outer Limits, Seinfeld and Alias. Later, in 1996 she accepted a part on Homicide: Life on the Street, which was one of NBC's most watched police dramas for a while. Forbes played the part of chief medical examiner Julianna Cox and stayed with the drama for two years. Michelle's part was canceled when the show began losing viewers causing creators to overhaul the cast. Luckily, for those who loved Julianna, she did agree to reprise her character and starred in the made-for-television movie, which was simply called Homicide: The Movie.
Notable Science Fiction Roles

Year
Character
Movie or TV Show
1991
Dara
Star Trek: TNG
1991-1994
Ensign Ro Laren
Star Trek: TNG
1996
Special Agent Jamie Pratt
The Outer Limits. A Stitch in Time
2005-2006
Admiral Helena Cain
Battlestar Galactica: The Series
2007
Admiral Helena Cain
Battlestar Galactica: Razor
Forbes moved on in a role for the 2001 movie Perfume, which also featured Paul Sorvino, Harris Yulin and Robert Joy. Later, in 2002 she worked on the film American Girl.
Michelle Forbes went the extra mile and studied British sign language for the 2001 British television movie titled Messiah. She later returned to the U.K. for several sequels, which were Messiah 2: Vengeance is Mine and Messiah III. Michelle then moved on to her portrayal of the character Admiral Helena Cain in Battlestar Galactica and appeared on three episodes of the remade classic television series. Forbes was also invited to appear in the TV movie titled Battlestar Galactica: Razor. The character of Helena Cain allowed Forbes to stretch her acting muscle by becoming the iron-willed admiral.
Ever the popular working actress, Forbes was given a part on an ABC series called Wonderland. Unfortunately, the network canceled it after just two episodes. She next found a home on The District, another police drama, which also starred Roger Aaron Brown. For the years 2002-2003, she was given a role on the award winning FOX series 24 as aide Lynne Kresge to President Palmer. Actor Dennis Haysbert, who portrayed President Palmer, is a big fan of the Star Trek franchise and was reportedly excited to meet and work with Forbes.
Michelle later accepted the role of Maryanne Forrester on the HBO series True Blood. Maryanne was a Maenad, which is a mythological Greek female known for frolicking and drunken inebriation. Furthermore, these ancient beings were devoted to Dionysus, the god of winemaking, madness and ecstasy. Michelle portrayed this unique creature expertly making viewers feel as though they were witnessing an actual Maenad infecting the town of Bon Temps with her strange powers. Michelle was nominated to receive a Saturn Award for Best Guest Starring Role on Television honoring her character on True Blood. Unfortunately, she didn't win and lost the award to fellow Star Trek actor Leonard Nimoy.
Michelle Forbes is currently starring in an AMC crime drama titled The Killing. She portrays Mitch Larsen, a grieving mother of a murdered teenage daughter, alongside Star Trek alumnus Billy Campbell. The show focuses on the police officers investigating the murder of her young daughter and how family members are coping with that loss.
Forbes has received a Primetime Emmy nomination for the category of Outstanding Supporting Actress in a Drama Series. Additionally, she has leant her voice to the character of Circe for the video game DC Universe Online, which also features the vocal talents of Wil Wheaton and Dwight Schultz. Furthermore, fans can enjoy her unique voice as the character of Dr. Judith Mossman in the Half-Life 2 video games.
After Michelle received her first acting job, she entertained us in a variety of roles that included film, television and stage. She is highly respected for the realism that she brings to her characters and the quality of her acting ability. Forbes' acting future is certainly bright, and her talent will keep us tuning in to see what role she takes on next.
Related Posts :