Women of Sci-Fi Spotlight: Carrie-Anne Moss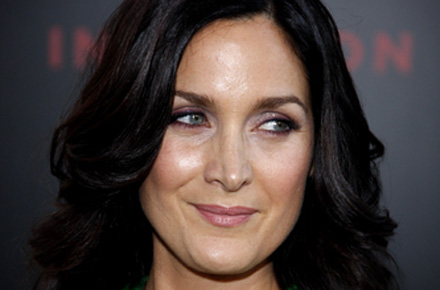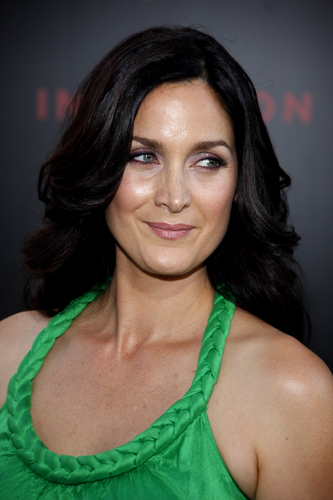 Most recognized for her role as Trinity in The Matrix series, Carrie-Anne Moss can't get away with the usual Hollywood disguise of wearing sunglasses to gain some anonymity. " I cannot wear sunglasses," she says, "as soon as I put them on, people recognize me." While the svelte mother of three may not be able to hide her gray-green peepers behind an oversize pair of Foster Grants, there's no disguising her beauty or talent.
The Early Years
Named after The Hollies' 1967 chart-topper of the same name, Carrie-Anne was born on August 21st of that year. Delivered in Burnaby, British Columbia to Melvyn and Barbara Moss, she was the couple's second and final child after her brother Brooke. From a very young age, Carrie-Ann knew she wanted to act. She joined a children's theater at eleven and went on to the Magee Secondary School where she was chosen to travel Europe with the school's choir in her senior year.
Minor Successes
While in Barcelona, she auditioned for and gained a small, steady part on the American crime drama Dark Justice. When the 1992 Summer Olympics drove up production costs in Spain, the final two seasons were filmed in Los Angeles. There, she enrolled in the American Academy of Dramatic Arts in Pasadena, CA, but was soon traveling to Spain, Japan, and Toronto in pursuit of modeling jobs. By the time she was twenty years old, she had graced the covers of several international magazines.
In 1994, Carrie-Anne starred in the ill-fated prime-time soap opera Models, Inc. as model Carrie Spencer. This, as well as other small parts in series and in largely-forgettable movies, helped Carrie-Anne prove her talent and attract the attention of casting directors in Hollywood.
The Matrix
In 1999, Carrie-Anne was selected to portray Trinity over A-list, proven actresses like Sandra Bullock. The Wachowski brothers, co-directors, said "as soon as we saw her in the audition we knew we'd found Trinity." The brothers did not want an actress that audience would be too familiar with, to avoid preconceived notions. They chose Carrie-Anne for her "tremendous intensity and great physical presence." Her tremendous intensity for the initial test-screen cost her, as she admits she was unable to walk for a few days afterwards.
Carrie-Anne was not an athlete, a dancer, or a gymnast. Yet the role of Trinity demanded flexibility, fighting skills, grace, and incredible strength. She credits intense Pilates and cardio to give her the stamina for the intense fight scenes, jumps, and leaps required. The film was primarily shot in Sydney, Australia, and the heat was another challenge she met head-on. While stunt double Annette Van Moorsel did the more dangerous work, Carrie-Anne didn't shy away from her fair share of the physicality the role demanded.
The Matrix was a blockbuster hit. It cost $63 million to produce and pulled in $463.5 in gross revenue. Audiences were entranced by the 'bullet time' camera work, and netted Carrie-Anne both a Golden Slate and an Empire Award for her contributions to the film. She agreed to reprise the role twice more.
Before beginning work on the second and third installments of The Matrix trilogy, Carrie-Anne took on supporting roles in both Chocolat and Memento, the latter of which earned her an Independent Spirit Award. The Matrix Reloaded and The Matrix Revolutions were to be filmed back to back, so Carrie-Anne intensified her workouts in preparation of these demands.
The Matrix Reloaded and The Matrix Revolutions
Filming back-to-back installments in Sydney, Carrie-Ann lived in Australia for almost two years. She was frequently visited by her actor husband, Stephen Roy, whom she had married in 1999. Of the experience, she said "it was such an experience to show up everyday for 2 years and to give all I could to Trinity and to the Brothers. It was very intense and a great experience in my life."
The Matrix Reloaded hit theaters in May of 2003 in conjunction with the related video game Enter the Matrix. The next month, a collection of nine animated shorts entitled The Animatrix were released. Carrie-Anne lent her voice to both side projects. The Matrix Reloaded was produced at an estimated cost of $127-$150 million, and it brought in over $742.1 in gross receipts. Interestingly, the movie was banned in Egypt due to religious undertones and the violence of the fight scenes, but this was later overturned.
The Matrix Revolutions was released six months later, in November of 2003. At a cost of $110 million and gross intake of $427.3 million, the film was the least-successful of the trilogy. Critics were also most harsh, calling it 'anti-climatic'. Carrie-Anne's performance, however, was lauded by Time magazine as a "definite must see."
The physicality of The Matrix trilogy took its toll on Carrie-Anne. During the filming for the first installment, she had severely sprained her ankle performing a flip that required her to run up a wall first. During the first week of filming Reloaded, she broke her leg. She also experienced a lot of anxiety about the motorcycle sequences, saying she is "a bit chicken."
Beyond The Matrix
In September of 2003, fully healed from her injuries and with the Matrix series behind her, Carrie-Anne welcomed her first child, a son named Owen. Owen's godmother is fellow actress Maria Bello. Carrie-Anne took several small roles in the next few years in movies such as The Chumscrubber, Suspect Zero, and Sledge: The Untold Story.
In November of 2005, she welcomed a second son, Jaden. The same year, she filmed Snow Cake, which was screened at no less than five different film festivals in four countries. The independent film earned her a Genie Award in the Best Actress in a Supporting Role category.
For the next several years, Carrie-Anne concentrated on motherhood and small, supporting roles in drama films. Not only did these roles allow her to stretch her artistic talents on-screen, they were also gentler to her body than action films. She welcomed a third child in June of 2009. A private person, Carrie-Anne has declined to release her daughter's name to the public.
However, Carrie-Anne has recently accepted a role in Silent Hill: Revelation 3D as Claudia Wolf. Considering the survival-horror genre of the film, the role may be more robust. The movie, written and directed by Michael J. Bassett, is in pre-production and is expected to be released in 2012.
Regardless of what projects she undertakes, Carrie-Anne, like a fine wine, simply grows more lovely with age. A dedicated mother and serious actress, her efforts are sure to be worthy of further accolades. She has shown her shrewd business acumen by remaining active in film while still taking plenty of time to devote to her family of five. Whatever projects she signs on for, we'll be watching with decided interest!
Update 08/08/2011
The spy dramedy Chuck is going into its fifth and final season. Who better to send it off than Carrie-Anne, aided by Mark Hamill? She will be featured on several episodes as Gertrude Verbanski, a former spy who is now heading the Verbanski Corp. The character description includes the words 'ruthless' and 'deadly'. Yes, please! You can check out Chuck on NBC, Friday nights at 8/7c this fall to check out Carrie-Anne in action.
Related Posts :