Women of Sci-Fi Spotlight: Jennifer Connelly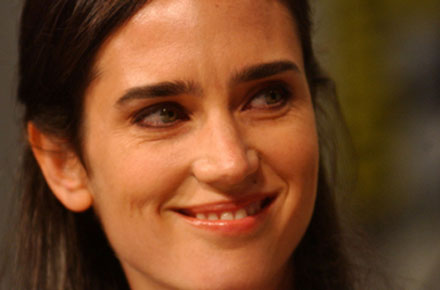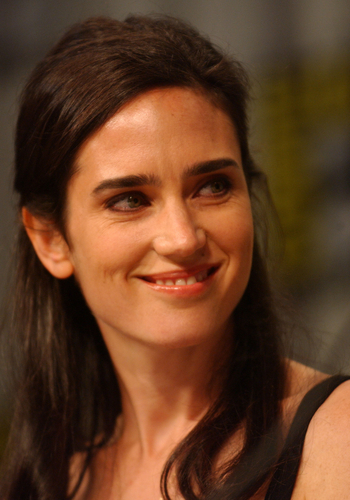 Now 40, Jennifer Connelly has been working for thirty years. A polyglot who is fluent in French, Italian, and English, she has excelled in virtually every arena she has tried. A successful child model, she segued seamlessly into acting before taking up humanitarian causes with Amnesty International. A mother twice, she is currently expecting her third child. Her educational pursuits are also not to be dismissed. While some actresses stick to one genre, Jennifer's resumé is as varied as it is impressive.
Childhood and First Film Roles
The product of a yeshiva-educated mother who worked as an antiques dealer, Ilene, and a Roman Catholic clothing manufacturer named Gerard, Jennifer was born in the Catskill Mountains on December 12, 1970. She was raised an only child first in Brooklyn Heights where she attended St. Ann's, a school geared towards the arts, before the family moved to Woodstock, New York for four years. Eventually, the move was reversed and Jennifer continued at St. Ann's.
At the age of ten, she was signed with Ford Modeling Agency. She started out with print advertising, including several Seventeen covers, then moved on to television commercials. In December of 1986, she recorded two songs in Japanese. Since she did not speak the language, she sang phonetically. Her mother frequently took her to auditions to further her career.
Jennifer's first role came in the 1984 gangster movie Once Upon a Time in America. The next year, she landed her first leading role as Jennifer Corvino in Phenomena, followed by Seven Minutes in Heaven. She attended Yale for two years to study English before transferring to Stanford to concentrate on drama. At the encouragement of her parents, she left school to focus on her acting career.
Young Adult Roles
Fans of fantasy got their first look at Jennifer in Labyrinth, a 1986 film where she portrayed Sarah. While it later became a cult favorite, it was a box office flop. As one of only five humans seen, Jennifer's performance opposite puppets came off as stilted and forced.
In 1988, Jennifer starred in Some Girls opposite Patrick Dempsey, a largely-forgettable college-romance-gone-bad film. Two years later, she appeared in The Hot Spot. Directed by Dennis Hopper, the film debuted at the Toronto Film Festival to a ho-hum reception. It promptly failed to gross enough to cover its production costs. In the same year, she was dropped from consideration for the role of Vivian in Pretty Woman due to being 'too young'. The role went instead to flame-haired vixen Julia Roberts.
Her next film, Career Opportunities, came out in 1991. It was panned for its sexual undertones that capitalized off of Jennifer's youth. She was quoted as saying that " that wasn't something I felt all that comfortable about." Later that same year, Disney released The Rocketeer, which garnered Jennifer a nomination for a Saturn Award in the Best Supporting Actress category. The movie, however, bombed at the box office and failed to lauch her career as had been hoped for.
Segue into Adult Roles
The 1995 film Higher Learning saw Jennifer in a more mature role as a lesbian college student. The movie earned high marks from critics, and was quite profitable. Jennifer then selected roles in Inventing the Abbots (1997), and Dark City (1998). She gave birth to her first son Kai between these films, delivering in July of 1997. Both performances were well-received, and Jennifer was courted for more meaty, adult roles.
2000 saw her portray Marion Silver in Requiem for a Dream. Her most well-received role to date, Jennifer was nominated for five awards. The movie tells the story of several drug addicts swirling further into addiction. Jennifer was unafraid to accurately act out the debasement and desperation of an addict.
Jennifer took the role of Alicia Nash in A Beautiful Mind opposite Russel Crowe. With Ron Howard directing, the film explored the schizophrenia of Nobel Memorial Prize winner John Nash. This was her most celebrated role to date, netting her an Academy Award for Best Supporting Actress, an American Film Institute Award for Best Supporting Actress, and a BAFTA award. All told, her portrayal won her 10 awards and five more nominations. Time magazine called her 'luminous', and this character paved the way to more lucrative roles. During filming, she also met her future husband, Paul Bettany.
Hulk and Creation
Intrigued by director Ang Lee's approach to superheroes, Jennifer agreed to portray Betty Ross, the previous girlfriend of the protagonist Bruce Banner. This role made her highly-visible to the comic community, and netted her another nomination for a Saturn Award for Best Actress. In the same year, 2003, she gave birth to her second child and first with Bettany, a son named Stellan.
In 2009, Jennifer played Emma Darwin, the religious wife of Charles Darwin. Her husband was cast as Darwin. While it would not have been strange to see the on-screen pairing fail, both Jennifer and Paul were able to bring their off-screen dynamic to life on-screen. The film received fair and balanced reviews, with Jennifer's English accent being praised as both musically and tonally correct.
Looking Toward the Future
Jennifer is now expecting her third child some time in 2011, and remains active in her charity work with Amnesty International. She remains one of the faces of Revlon cosmetics, and has appeared on several publications' lists as among the most beautiful women in the world.
With such a long and successful career already, the future looks bright for Jennifer and her growing family. We're looking forward to seeing what role she will take on next. Rest assured that no matter what genre or direction she takes, it's sure to showcase her far-ranging and beauty.
Related Posts :