Women of Sci-Fi: Morena Baccarin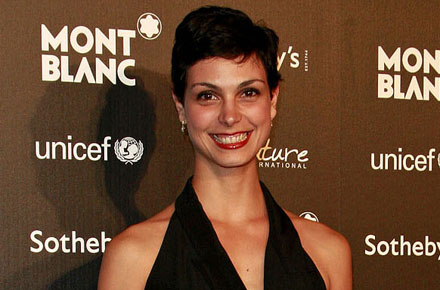 Not just a pretty cog in the Hollywood Machine.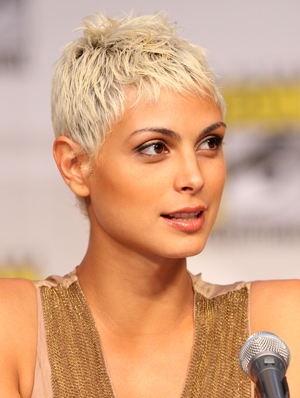 With her striking short hair and deep brown eyes, Morena Baccarin could be dismissed as just one of the thousands of pretty cogs that make up the Hollywood machine.
However, her incredible talent, work ethic, and willingness to meet differing roles head-on makes her an actress of note regardless of the project's genre.
Morena also doesn't take herself too seriously, citing 'stumbling around, feeling the walls with my contacts in' as a comical anecdote about her work on Stargate.
Practically born to be an actress, Morena is a a Julliard graduate with an impressive list of work under her belt.
Birth and Early Years
Born on June 2, 1979 in Rio de Janeiro, Brazil, Morena was welcomed into a family already immersed in film and television. Her mother, Vera Setta, is the current actress and producer for the Brazilian production of The Vagina Monologues while her father, Fernando Baccarin, was a journalist and editor.
When Morena was seven, her father landed an assignment with Globo TV, a popular and long-standing Brazilian television station. The family moved to Greenwich Village in The Big Apple, where Morena first attended a public school before entering the New York City Lab School for Collaborative Studies where she rubbed elbows with few classmate Claire Danes (later of My So-Called Life and Dexter fame).
She then attended Fiorello H. LaGuardia High School of Music & Art and Performing Arts, a school known for producing outrageously talented actors and actresses such as Robert De Niro, Omar Epps, Wesley Snipes, and Sarah Michelle Gellar.
As for college, Morena set her sights on the Julliard School. Famous for its selectivity and the enormous talent of its alumni, Julliard accepts less that eight percent of applicants most years.
Morena majored in drama and was involved in productions of Macbeth, The Marriage of Bette and Boo, and The Importance of Being Earnest. During her summer breaks, she took the stage as part of the Guthrie Theater Lab with highlights including The Long Walk and Jack and Jill.
More Morena Baccarin Photographs
Segue into Film
In 2001, Morena took the part of Monica in a largely improvisational movie directed by Michael Rymer, who later produced Battlestar Galactica in its television, miniseries, and feature film formats. The film, titled Perfume, gave an insider's view of the fashion industry in New York.
The film was largely panned by critics due to its specialized fashion 'lingo' peppered throughout, however this is lauded by fashion industry enthusiasts as being authentic. She followed up with a role in Way Off Broadway and a bit role in Rodger Dodger.
Firefly/Serenity
2002 saw Morena cast in the popular but ultimately doomed space western Firefly portraying Inara Serra, a prostitute. Inara and Mal snipe at one another due to a mutual attraction that both stifle, as Mal has issues accepting her line of work.
She reprised the role in the 2005 film Serenity, appearing adept at martial arts and disdaining firearms to use a bow and arrows. In a 2008 panel at DragonCon, Morena acknowledged that Inara was dying of a terminal illness, a plot development that was never explored due to the show's cancellation.
Before her next major role was offered, Morena took several small parts in series such as How I Met Your Mother, The O.C., and Justice, among others. She also performed voice work on the animated series Justice League Unlimited as Dinah Lance, aka Black Canary.
Stargate
In 2006-2007, Morena played Adria for five episodes of Stargate SG-1 and reprised the role in the 2008 feature film Stargate: The Ark of Truth.
Morena adored the character, stating "Adria was a complex character and I loved trying to make her sweet as well as totally bad."
She did not complain about the orange contact lenses the role originally required even though they irritated her eyes and left her nearly blind, choosing instead to poke fun at her stumbling attempts to navigate while so impaired. They were eventually written out for her comfort.
V
After the movie wrapped, Morena busied herself with another series of small series roles on Numb3rs, Medium, and Stolen before delving into her next role as a regular on the re-imagined series V. Playing Anna, the distant and calculating High Commander, Morena was seen steadily on the series before ABC pulled the plug on it in May of 2011.
Her work on this series netted her two Golden Globe Award nominations for the Best Supporting Actress on Television division. There is now a fan-backed attempt dubbed 'Project Alice' on Facebook intent on reviving the series, possibly with another network, which has 30,000 subscribers.
Homeland
Morena was almost immediately approached by the producers of an upcoming psychological thriller series called Homeland. It features Claire Danes, Damian Lewis, and Mandy Patinkin (famous for his role as Inigo Montoya in the 1987 classic The Princess Bride).
The show is expected to follow Marine Sergeant Nicholas Brody, who disappeared and was presumed killed, yet resurfaces years later in a terrorist safe-house. The investigation to uncover his loyalties should be interesting. Morena is listed as portraying Jessica Brody.
Life Outside of the Studio
Morena has been rather tight-lipped about her private life, although she did state in a 2009 interview with People magazine that she has been dating director Austin Chick for the past two years. As far as the public is aware, she has no children and is not married. She looks up to her mother and mentions her work on The Vagina Monologues frequently in interviews with the press.
Only in her 30s, Morena has many years of acting ahead of her. Showtime is known for having long-running series such as Dexter and Californication, so it wouldn't be unusual to see her in Homeland for years to come. No matter which projects she graces, her unflinching delivery and immense talent make her stand head and shoulders above many other cogs in the Hollywood machine.
Related Posts :