Amazingly, Grace didn't think that acting would be a career.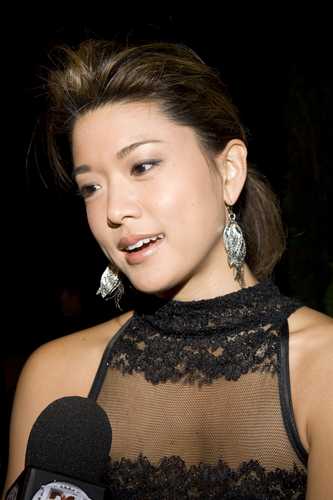 With her exotic beauty and willingness to tackle uncomfortable scenes, Grace Park has made quite a name for herself among the sci-fi community. Known primarily for portraying the Cylon Number Eight (most of whom were called Sharon) in all her incarnations on Battlestar Galactica, Grace is currently contracted to continue her portrayal of Kono Kalakaua on the re-imagined Hawaii Five-0. Amazingly, Grace didn't think that acting would be a career, and she took steps to ensure she would be covered in case 'the call' never came.
Early Years
Grace was born on March 14, 1974 to Korean parents in Los Angeles, California. Her birth name was Jee Un Park. The family relocated to Vancouver, Canada when she was only 22 months old, and it was there that she was raised. Both Korean and English were spoken in the home, and Grace picked up conversational French from her classmates. She also picked up a smattering of Cantonese and Spanish, the latter of which she is still learning. Grace considers herself a Canadian, but a Korean first and foremost. She graduated from Magee Secondary School before moving on to the University of British Columbia. She finished in 1992 with a bachelor's in psychology.
Before turning to acting, Grace was a model. She has made the Maxim 'Hot 100 List' three times, most recently in 2010. With her future prosperity firmly in place via having completed her degree, she decided to "try acting for a year." Needless to say, she won't be ordering a couch for her office and analyzing clients any time soon.
Starting Out in Acting
In 2000, Grace landed a minor role as a dancer in the Andrzej Bartkowiak martial arts film Romeo Must Die. She took small parts in the short-running series Secret Agent Man, where she appeared in two episodes. The next year, she followed up with snagging a recurring appearance on the Canadian teen show Edgemont as Shannon Ng, as well as making a single episode appearance on Dark Angel. Grace also appeared as a guest on Stargate SG-1 as Lt. Satterfield.
Battlestar Galactica
Grace's athletic build and solid camera presence earned her the role of Lt. Sharon "Boomer" Valerii on Battlestar Galactica. The re-imagined mini-series opened in 2003 amid shouts from fans who were upset that two central characters, Boomer and Starbuck, had been cast as females rather than males. The fans who complained the loudest, however, soon became staunch supporters of both Grace Park and Katee Sackhoff in their previously-male roles, due to both the talent of the ladies and the sharp writing. The added bonus of potential romantic elements was also a topic that swayed the largely-male audience to accept the ladies. The mini-series then spawned a regular television series that ran from 2004 to 2009. Grace reprised her role.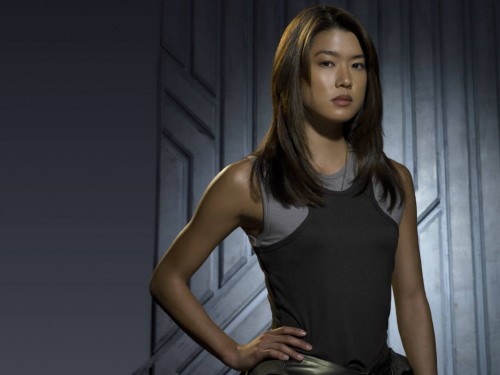 During Battlestar's run, Grace tackled several very uncomfortable scenes that a lesser actress may have shrunk from. One such scene was after her identity as a Cylon was revealed. Lt. Thorne beats her character and even attempts to rape her before members of her own crew intervene. Another scene involved outdoor sex, which Grace describes as
"It was outside in a forest under a lightning-and-thunder shower. I was like, 'So you want some crazy forest sex? OK, I gotcha.' In the end, they had to totally edit it down and take out all my moaning."
Her unflinching enthusiasm for the role, which included getting busy, crying copiously (and convincingly), and multiple hand-to-hand combat scenes earned Grace the respect of the sci-fi community. In 2009, the made-for-television movie Battlestar Galactica: The Plan was released, with Grace reprising the role yet again.
Side Projects and Marriage
Grace didn't just rest on her guaranteed role as Sharon while the various Battlestar projects were in full swing. During lulls, she found time to wedge in a recurring role on the short-lived sci-fi series Jake 2.0, as well as lend her voice to the video game Command & Conquer 3: Tiberium Wars. On 2008, she portrayed Akani Cuesta on The Cleaner, which was canceled after 26 episodes. That same year, she played Liz Carter on the Canadian drama The Border. In 2009, she guested on an episode of CSI: Crime Scene Investigation.
Somehow, while doing all of this, she had time to date. After a reported three year courtship, she married Phil Kim in 2004. He shares her Korean heritage and is a real estate developer. The couple have not reported any children, and Grace has not ever been out of the eye of the camera long enough to have hidden a pregnancy. The couple is presumed childless and are equally close-mouthed about most other aspects of their personal lives. They live in Vancouver.
Post-Battlestar
After all of that work, most people would have spent a few years, or decades, chilling out at home on the couch. Not Grace. She signed on to play a main role as Kono Kalakaua in yet another re-imagined series, Hawaii Five-0. It hit the airwaves in the fall of 2010, exactly 42 years after its predecessor. Once again, her character had previously been male. It was number 22 in the ratings for its first season, and CBS has announced that they have ordered another full season of 24 episodes.
In her spare time, Grace enjoys extreme sports and travelling. While very candid about her roles, she plays her personal life very close to the vest and is not often in the public eye. Whether or not Hawaii Five-0 runs for years or is cancelled next season, Grace has a work ethic that is simply impressive. I'm sure we'll be seeing much more of her in the future.
Related Posts :
Category: Women of Sci-Fi Spotlight