A Voyager in the Acting World.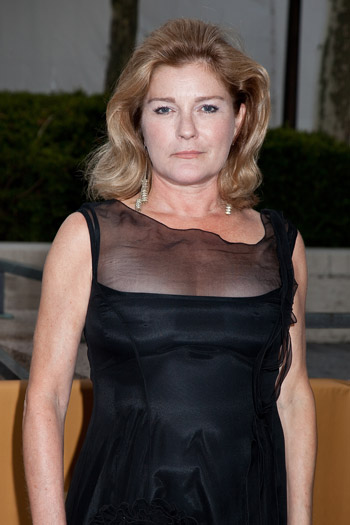 She may be known best by science fiction fans as Captain Kathryn Janeway of the Starship Voyager, but Katherine Kiernan Maria "Kate" Mulgrew has a long history in the acting world that runs the gambit from theater to television to film and even into the realm of commercials. Her acting career spans more than 35 years and she has done more with that time than many actors and actresses will do in their lifetimes. More impressively, she has done all this and still managed to raise her two sons and put in performances strong enough to win 5 awards (mostly for theater work) and be nominated for several others.
The Voyage Begins
Kate Mulgrew was born in Dubuque, Iowa on April 29, 1955. She was the second-oldest in a large family with eight children. The first spark of acting came early to Mulgrew, when at 12 years old she decided that it was the path for her. Fortunately for sci-fi fans, Mulgrew's mother was very encouraging towards her acting aspirations and sent her to summer acting schools in addition to buying her books about other famous actresses to inspire her.
All this served to feed a strong-willed ambition and, at age 16, Kate auditioned for the Royal Academy of Dramatic Arts in London, England. Her talent led her to become one of the finalists in the audition, but, much to her dismay, she was too young at the time to qualify for the classes.
It didn't take long for her to move on to the next goal, however – a trait that would follow her throughout her career. At age 17 Kate was accepted into the acting program at the Stella Adler Conservatory of Acting. After making the trip to New York City, Kate attended the program but never finished. In her junior year she decided to take a more direct role in pursuing her career and dropped out to practice her craft in a more immediate fashion.
Strange New Worlds
It was in 1974 that Kate landed her first role for television, a supporting role in the old-school sci-fi classic The Six Million Dollar Man. Despite this science fiction origin, Kate would spend most of her time in what might consider more "mainstream" roles on popular television programs or working on the stage.
Her career really began to take off on the soap opera Ryan's Hope (1975). She spent two years playing the part of Mary Ryan, a role that would gain her a following of its own as a fan favorite. In 1979 she became the wife of the famous television detective Columbo in the Mrs. Columbo television series. The show was cancelled after two seasons and Mulgrew moved on to many other projects.
Wandering the Galaxy
Those who were alive in the 1980s and old enough to use a telephone may recognize Mulgrew's voice from a rather unexpected source. For a time she was the face of telephone company AT&T and lent her voice to the pre-recorded phone prompts. Many may remember her from the numerous starring and guest roles she had in famous films and television series.
Here is a short list of some of the more recognizable ones:
1982 – Cheers
1982 – St. Elsewhere
1984 – Murder, She Wrote
1985 – Throw Momma from the Train
1987 – Remo Williams: The Adventure Begins
1988 – Murphy Brown
Mulgrew's voice is also famous for more than telephone prompts. She has managed to land roles doing vocal work for various animated series over the course of her career. Earlier work consists of Batman: The Animated Series (1992) where she was the voice of ambitious villainess Red Claw. Mulgrew also voiced Titania in the Gargoyles animated series and the character Flemeth in the popular Dragon Age series.
Voyage to Fame
It was during a troubled time that Mulgrew would gain her greatest fame among one of the world's largest geek followings. She was dealing with a divorce and financial troubles when the call to audition for Star Trek: Voyager came up. At first she did not get the role, it going instead to actress Genevieve Bujold, but the intense production schedule caused Bujold to quit after only two days on the set. Producers decided to go with Mulgrew as the replacement – a decision they have never regretted.
Kate Mulgrew gave a life to the character of Kathryn Janeway that earned her 4 nominations and 1 win for the Saturn "Best TV Actress" Award. In addition, Mulgrew has stated that she enjoyed the role for personal reasons. The strong character of Janeway made Mulgrew proud not only because she was the first lead-role female captain in the Star Trek franchise, but also because she was breaking stereotypes about women's roles in science fiction.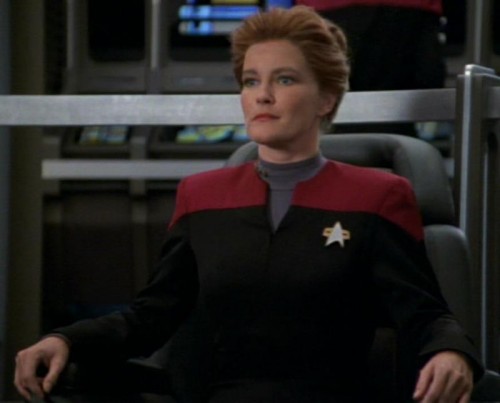 The Voyage Continues
Mulgrew's time on the bridge of the Voyager had to come to an end sometime, and seven years later the series was over. Even though her Voyager days came to an end, it did not stop her from reprising the role in various specials as well as doing voice-over work for Voyager-based video games.
Beyond the tail-end work as Janeway, Mulgrew returned faithfully to the world of the theater while still pursuing roles in television and film. She has made her way into leading roles in several films and made more guest appearances on popular television shows such as Warehouse 13, Law and Order: Special Victims Unit and Mercy.
Her career journeys onward, and though many may forever associate her with Janeway and Voyager, she continues to gather nominations and awards for her work (particularly in the theater).
Beyond the Actress
Aside from her acting work, Kate Mulgrew devotes her time to a number of causes that she feels are close to her heart. Her mother died after a long battle with Alzheimer's disease and Mulgrew has been very active in raising money for the Alzheimer's Association National Advisory Council (an estimated $2 million to date). She also lends help to Cleveland's MetroHealth system, a non-profit health care system in the city of Cleveland. Mulgrew places a very high value on life and works in advocating pro-life and anti-capital punishment.
Mulgrew is currently married to Democratic Ohio politician Tim Hagan, who proposed to her one day while she was on the set of Voyager. Although she has been branded with the inerasable mark of being a Star Trek icon for the rest of her life, Mulgrew has proven herself to be a capable, even exceptional, actress no matter what role she assumes. At age 56, she has many more great years and amazing performances ahead of her.
Related Posts :
Category: Women of Sci-Fi Spotlight