The Most Beautiful Cyborg Ever Invented

Kristanna Loken, who was born Kristanna Sommer Løken in New York on October 8, 1979 and began her career as a model in 1994 at the tender age of 15. During that same year, she also began her acting career with a single episode appearance on the daytime soap opera As the World Turns. Although Loken did find semi-regular work from the very beginning, it was her part as a cyborg in the 2003 feature film Terminator 3: Rise of the Machines which was considered to be her breakout role. No stranger to sci-fi, Loken had already racked up multiple genre references before joining the cast of T3.
Early Life
Loken's mother, Rande, was a model prior to giving birth, and her father, Chris, is a novelist, screenwriter and apple farmer; being raised by a family with industry connections undoubtedly played a role in Loken's decision to pursue a career in the entertainment industry. She has credited her mother with encouraging her interest in acting and modeling, and the Norwegian- American Loken moved to New York City at a young age to be in a better position to audition for various roles.
Modeling Career
Loken's modeling career began with a bang in 1994 when she took third place in Elite's "Look of the Year" competition, which was held in Spain. Loken was able to parlay that success into several different fashion modeling opportunities, all of which eventually led to her being signed to a contract by Elite.
Early Acting Career
Although she got her first acting break in a daytime soap opera, Loken quickly moved onto guest appearances on popular prime time shows such as Law & Order, Just Shoot Me! and Boy Meets World. Loken's first recurring role, which began in 1996, was an eight episode stint portraying the character of Sable O'Brien on the sitcom Unhappily Ever After. In 1996, Loken also made her first appearance in the sci-fi world, with a single episode role on the short lived sci-fi sitcom Aliens in the Family. Other television genre appearances followed, including guest spots on Star Trek: Voyager and Lois and Clark: The New Adventures of Superman.
In 1997, Loken was signed to her first film role, playing the part of Linda Baker in the independent drama Academy Boyz. 1997 also brought Loken her first big acting break, with a 22 episode arc in the television drama Pensacola: Wings of Gold.
In 1998, Loken received her second big break when she was cast as Taja in the television series Mortal Kombat: Conquest. Conquest was a prequel to the first Mortal Kombat movie, which was based on the successful Mortal Kombat video game franchise, and Loken appeared in all 22 episodes. Although the series wasn't received well by critics, it was received moderately well by fans of the video game. Loken required a stunt double to perform the complicated fight scenes. The series was released in six different countries, which definitely helped to expose Loken's acting to a wider, and more diverse, audience.
Terminator 3: Rise of the Machines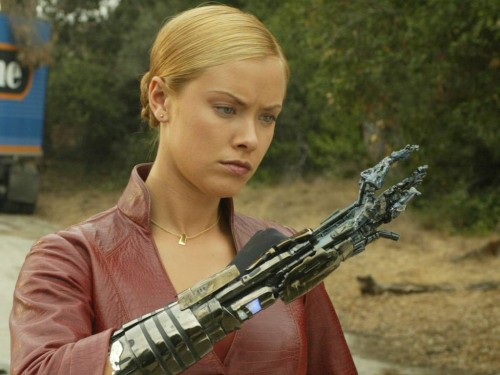 2003 saw the release of the latest in the extremely popular Terminator film series. Loken was cast in one of the lead roles, as a cyborg titled T-X. Loken spent a of time preparing for the role of T-X, including packing on 15 pounds of muscle and taking a mime class to improve her ability to communicate without the usage of words. In interviews, Loken has stated that she knew when she took the role that it would have a very big impact on her life, and she was right. The role launched her name onto the lips of all avid sci-fi fans, and it also led to her being named as number three on Maxim Magazine's 2003 "Hot 100 List." Terminator 3 became a worldwide blockbuster, grossing over $433 million dollars.
2004 – 2011
Loken took on a wide variety of different roles after Termination 3, including a 10 episode arc on Showtime's popular series The L Word and a 22 episode arc on the Syfy channel's Painkiller Jane. She was also cast in the lead role in several different movies, including BloodRayne, Darfur and Lime Salted Love. During this time Loken also took smaller roles in S.W.A.T.: Firefight and In the Name of the King: A Dungeon Siege Tale.
Personal Life
Loken is a vegetarian, and has been very open publicly about her bisexuality. Although it was never confirmed, widespread rumors linked her romantically with Michelle Rodriguez, her co-star in 2005's Bloodrayne. Loken married Painkiller Jane co-star Noah Danby in 2008, but their short lived marriage was over by November of 2009, when Lokan told a writer from AfterEllen.com that she was once again in a relationship with a woman.
Upcoming Projects
In 2012, Loken will be seen on the big screen in at least three different films: Dark Power, Love Orchard and Phantom Hunt. Loken has the lead role in Phantom Hunt, which was filmed in Kazakhstan under the filming title of Reverse Side 2: Hunting the Phantom. Dark Power, which is currently filming, has her cast opposite Sean Patrick Flanery. Loken also has the lead in Love Orchard, which was written by her father, Chris Loken, and produced by Loken Mann Productions.
Related Posts :
Category: Women of Sci-Fi Spotlight