Women of Sci-Fi Spotlight: Jeri Ryan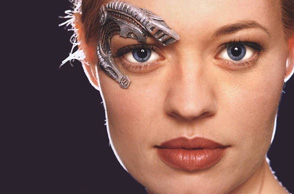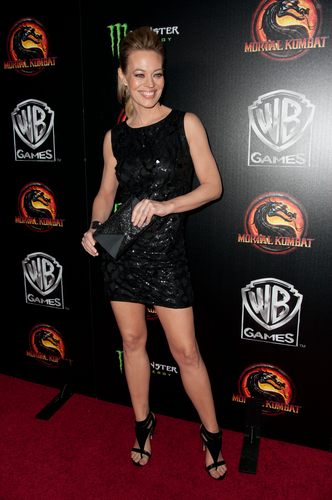 You probably recognize her most for her role as 7 of 9, the outrageously-attractive ex-Borg of Voyager.
Perhaps you know her as Ronnie Cooke on Boston Public.
Or maybe you half-remember the scandalous particulars of her divorce from former Senate candidate Jack Ryan.
No matter how she caught your attention, Jeri Ryan is a force unto herself, excelling at academics, motherhood, and her varied career.
The Early Years
Jeri Lynn Zimmermann (Ryan) was born on February 22, 1968 in Munich, West Germany. Named after her father Gerhard Florian "Jerry" Zimmermann, a Master Sergeant, she is a self-proclaimed Army brat.
Jeri, her older brother Mark, and her mother Sharon moved frequently throughout Jeri's early years due her father's job.
When she was eleven, her father retired from active military service and the family settled in Paducah, Kentucky.
Jeri attended Lone Oak High School and graduated at the top of her class and a National Merit Scholar in 1986. Voted most talented by her graduating class, she then went on to Northwestern University where she joined the Alpha Phi sorority (Beta Chapter) and earned a Bachelor of Arts degree in theater in 1990.
During her senior year of college, Jeri won both the Miss Northwestern Alpha Delta Phi Pageant and the Miss Illinois Pageant. She was awarded fourth place at the 1990 Miss America Pageant where she won the swimsuit portion of the competition.
Of pageants, Jeri has said that while she never did smear her teeth with Vaseline or use duct-tape on her breasts, she was guilty of using athletic spray adhesive on her backside to hold her swimsuit in place.
With the ink on her degree still dry, Jeri moved to Los Angeles to pursue acting. That same year, she met Jack Ryan while she was dealing blackjack at a charity event.
The two married on June 15, 1991, produced a son, Alex, on August 15, 1994, and divorced on August 27, 1999.
Their entire marriage was spent commuting between LA and Chicago, which Jeri cited as one of the reasons for the divorce.
Seven of Nine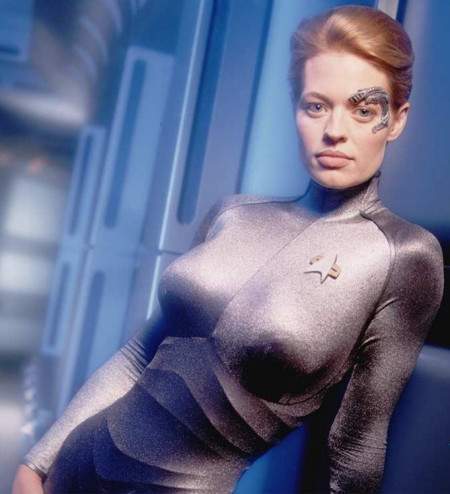 Simultaneously, her acting career had begun to take shape. After many guest appearances and an eight-episode engagement on the ill-fated sci-fi drama Dark Skies, Jeri finally found steady work as Seven of Nine on Star Trek: Voyager in 1997.
The first season was the hardest for Jeri. The original silver costume she wore required twenty minutes to get her in and out of it, a task she could not do alone due to the design. As she didn't want to delay filming, she would often withhold liquids all day long to avoid needing to use the restroom.
She also had no Star Trek knowledge on which to build, having never seen any of the previous series. Despite these challenges, her character was a hit and Jeri was signed on until the series' end in 2001.
Of the role, Jeri has said "I would defy people to find a more beautifully developed character than Seven of Nine." While it's true that her costumes were very snug, the character was not made for eye-candy appeal as is evidenced by her detailed story arc and emotional growth.

Seven of Nine, raised by Borg, was innocent and often unaware of her appearance's effect on the males of the crew. For this reason, Ryan has said she was comfortable with it and that "the whole sex symbol or babe thing doesn't bother me."
During her time on Voyager, Jeri was nominated four times for Saturn awards and won in 2001 for Best Supporting Actress on Television. In 1999, she was honored with a Golden Satellite Award for Best Performance by an Actress in a Television Series—Drama.
Life After Star Trek
After her divorce from Jack Ryan, Jeri began dating Voyager producer Brannon Braga. From February to November of 2000, the couple were stalked and harassed by Marlon Estacio Pagtakhan. Pagtakhan had written letters threatening to sexually assault Jeri and torture Brannon.
He was convicted of harassment in May of 2001 and was arrested again in 2007 for harassing and stalking professional wrestlers.
Jeri landed her next role in Boston Public, portraying teacher Ronnie Cook from 2001 to 2004. During this time frame, two important events took place in Jeri's life off-camera: the tabloid scandal of her divorce records being unsealed, and she met her current husband, Christophe Émé.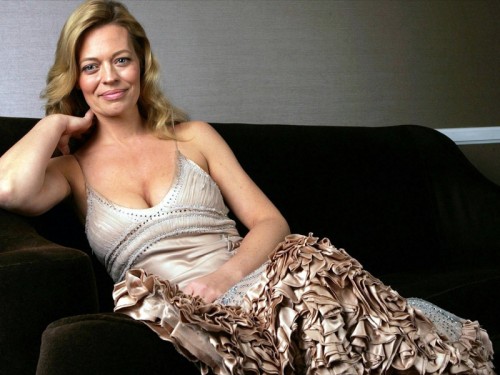 In 2003, Jack Ryan began his run for the open Senate seat for Illinois. The media began to clamor for the release of his divorce records. When they were released, supporters were shocked at allegations of sex clubs with S&M-like objects hanging from the ceilings.
The documents also contained information that Ryan had asked Jeri to perform sex acts in these public spaces with him, which she refused. The outcry effectively ended his run for Senate, although he denies these charges as Jeri's inventions.
Ever the class act, Jeri was quoted as saying, "He's a good man and good father," and declined to engage in any mud-slinging.
At a 2003 charity event, she met French chef Christophe Émé. The two began a relationship and were married June 16, 2007, two and a half years after launching a French restaurant named Ortolan together. Together, they have appeared on Iron Chef America, both having a passion for gourmet cuisine.
On March 2nd of the next year, the couple welcomed a daughter named Gisele.
Since the end of Boston Public, Jeri has kept working on such television series as Shark where she appeared in 34 episodes, Psych, and Body of Proof. Ever generous to her undying fans, she continues to find time to attend Star Trek conventions as well.
Now 42, Jeri is still a breathtaking sight and a sharp, emotive actress that continues to impress. Who knows where this bright mother of two may decide to shine the beacon of her talent next? No matter what project is within scanning range, resistance is sure to be futile!
Update 08/08/2011
Jeri Ryan Appears on The Talk
While most nerds do not tend to watch talk shows, I bit the bullet and found a recent interview Jeri did on CBS's The Talk. Sitting alongside Big Bang actress Sara Gilbert, Jeri talks about her experience viewing an autopsy to fully immerse herself in her role as a medical examiner on Body of Proof.
The conversation quickly turns geeky when Sara asks her "how do you feel when you get recognized from Star Trek: Voyager?" Jeri flashes that million-dollar smile and says, simply, "You know what- it's great!" She is interrupted by applause. Once it dies down she continues, "it's an honor."
The conversation also touches on how she met her husband, French chef Christophe Émé. She also discusses the fact they are raising their daughter, Gisele, to be fluent in both tongues.
Body of Proof's season premier is slated for Tuesday, September 20.
Related Posts :