Women of Sci-Fi Spotlight: Natalie Portman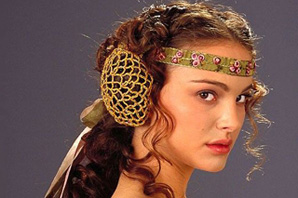 Sharing the birth date of June 9th with other A-listers Johnny Depp and Michael J. Fox, Natalie Portman's success almost seems predestined. Recognized primarily for her portrayal of Padme Amidala in Star Wars episodes one through three, Natalie is also an accomplished scholar with a love of mathematics "because there's always an answer." A two-time Golden Globe winner, Harvard graduate, and polyglot, Portman is a beautiful, accomplished, and studious young woman.
The Early Years
She was born Natalie Hershlag in 1981 to Dr. Avner Hershlag, a fertility specialist, and Shelley Hershlag, a homemaker who later became Natalie's agent. Delivered in Jerusalem, Israel, her family lineage hails from Austria, Romania, Poland, and Russia. Her parents moved to America when Natalie was three, giving her dual citizenship as well as dual mother tongues of Hebrew and English. At four, she began dance lessons in ballet, jazz, and tap, which she continues today. At eight, she became a vegetarian. Natalie is an only child and is very close to her parents, who often accompany her to film premiers and other professional events.
At 13 Natalie had her film debut in Léon, playing a child who makes the acquaintance of a murderer-for-hire. Natalie assumed her grandmother's maiden name, Portman, as her own for privacy and to protect her family from intrusion. She followed up with small roles in Everyone Says I Love You, Heat, and Mars Attacks. She also won a major role in Beautiful Girls. Natalie then made her first Broadway stage appearance as Anne Frank in The Diary of Anne Frank in 1997.
Star Wars
In 1999, Star Wars Episode I: The Phantom Menace hit theaters, Natalie graduated from Syosset High School in Syosset, Long Island and then moved into the Lowell House dorm of Harvard to pursue a degree. In an interview with the New York Post, Portman stated that she didn't care if college ruined her acting career and was quoted as saying "I'd rather be smart than a movie star" to Fox News.
Throughout her college career, Natalie made her studies the main focus. She used her summer break in 2000 to go to Australia and film Star Wars Episode II: Attack of the Clones, and used the 2001 summer break to take a role in The Seagull at New York City's Public Theater. The same year, she also found time for a cameo as herself in the comedy movie Zoolander. No matter how busy, she made her education the top priority, asked for no special treatment, and graduated on time with a Bachelor in psychology.
In the spring of 2005, Star Wars Episode III: Revenge of the Sith was released. It was the highest-grossing film of the year and netted her nominations for both a Saturn Award and a Teen Choice Award. Portman has stated that she will not be involved in the Star Wars universe again, but has nothing negative to say about the experience.
Portman has had largely-positive opinions and insights regarding her work on Star Wars. She cites Episode III as he favorite of the prequels, stating "when you have such a dark story to work with it demands you as an actor to work harder." She also believes that working in front of a green scene is challenging, requiring the actor to imagine a set, the opposing character, and their emotions in addition to that of her character.
In early 2006, V for Vendetta opened, leaving many fans shocked by her shaved head. Those unaware of the role had mixed reactions to her appearance, leading her to explain. "Some people will think I'm a neo-Nazi or that I have cancer or I'm a lesbian. After all the crazy hairstyles I had to endure for the films, it's quite liberating to have no hair- especially in this heat." Ever-practical, Natalie took what very well could have been a traumatic experience and turned it into a positive, empowering event. The film netted her the first of two Saturn Awards in her career thus far.
Recent History
Her next huge role came in 2010 in Black Swan. Portraying ballerina Nina Sayers, Portman drew scrutiny after a weight loss of 20 pounds due to the demanding dance training. Detractors speculated she had an eating disorder, and gossip blogs posted up stills of the film, labeling Portman 'emaciated' and 'skeletal'. Natalie defends her appearance, stating "I couldn't be anorexic because I like food too much, and I couldn't be bulimic because I hate throwing up too much" and "I basically have a little boy's body. They tell me, 'Ok, this is where we're going to push up your cleavage,' and I'm like, 'What cleavage?'" Black Swan garnered her a second career Saturn Award.
During the filming, Natalie became enamored of choreographer Benjamin Millepied, a ballet dancer like herself. The two are now engaged and expecting their first child together in the summer of 2011. Portman was lauded for her robust, healthy appearance on the red carpet at the Screen Actors Guild Award ceremony, where she won in the Outstanding Performance by a Female Actor in a Leading Role category.
Since wrapping on Black Swan, Natalie has completed filming for three other projects and continues to be involved with promotions, charity work, and preparing for the child's arrival.
Update: On June 14th, 2011, Natalie and her partner Benjamin Millepied welcomed their first child, a baby boy. The couple has declined to release the child's name, but both mother and baby are assumed to be doing well. They have also declined to name the date of their awaited nuptials.
Natalie Portman is educated, successful, and surprisingly down-to-Earth. No matter what project she turns to next, it is sure to be a success. It was written in the stars. Just ask Johnny Depp!
Update 08/08/2011: While the birth and gender of her child was announced almost immediately, the name she chose was not released for some time. Finally, in early July, People reported that she had announced her son's names as Aleph on the Israeli television show Good Evening With Guy Pines. Aleph is Judaic Hebrew and means "primordial one that contains all numbers." With stars' propensity for outrageous name such as Moon Unit, Apple, Puma, Pax, and Rumer, I'm betting little Aleph will like his name just fine.
There's still no word on when Millepied and Portman plan to wed.
Related Posts :