Women of Sci-Fi: Jolene Blalock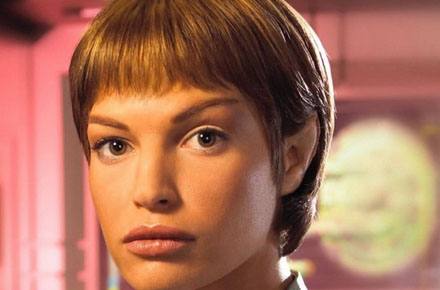 The finest full-blooded Vulcan to ever grace the screen.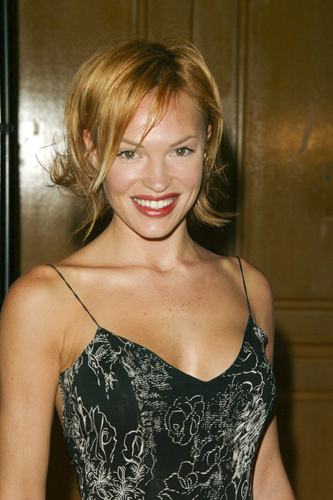 When life-long Trek fans tuned in to the new series Enterprise (later restyled Star Trek: Enterprise) in the fall of 2001, acting newcomer Jolene Blalock immediately gained attention as one of the most fine-boned, tiny full-blooded Vulcans to ever grace the screen.
While this may have been the first time she gained the attention of the wider sci-fi community, Jolene has been working since her late teens, first in modeling before moving on to television series and movies.
Always outspoken, Jolene has been candid about her past drug use, sex, and her opinions on appearance and perception.
Birth and Childhood
Jolene was born on March 5, 1975 in San Diego, California and was raised a block from the ocean. She shares her date of birth with fellow model Nikki Taylor.
Regarding her name, Jolene has quipped "I think my parents were high when they named me." Her father often took her and her three siblings to the water "the way other fathers took their kids to the park," and she quickly became an avid surfer.
She caught the acting bug in sixth grade when she participated in a school play. However, childhood was not easy for her. She has explained it as "I didn't have a good childhood because I never could get along with other kids. I was the child that sat in the corner eating lunch by herself." She also has stated she had "no real friends" as a child and felt very alone, spending her free periods in the library. In high school, she admits, "I was an acidhead and a pot smoker."
By sixteen or seventeen (sources are ambiguous on this point), Jolene left home to begin modeling in both Europe and Asia. At only 5'6″ to 5'7″ in height, her proportionate structure, confidence, gorgeous hair, and exacting posture made her stand out among her Amazonian peers.
In an industry where 5'10" is considered 'short', this was no small accomplishment. She was successful in both runway and print modeling before finally settling in Los Angeles in 1998 to get serious about acting. While in LA, she studied at the Terri Berlin Theatrical Workshop.
Television Debut and Early Work
To further hone her acting skills, Jolene worked on a few commercials and studied at the Stella Adler Academy, Toronto's Second City Improv, and Second City Los Angeles. She debuted on Veronica's Closet, an NBC sitcom, as an unnamed woman. She followed up with bit parts in The Love Boat: The Next Wave, G vs E, and D.C. These appearances, while small, helped to show Hollywood that she was ready to take on more demanding roles.
In 2000, Jolene portrayed Princess Medea in the made-for-television movie Jason and the Argonauts. This was a more substantial role than anything she had previously accepted, and her performance was considered solid. It was this role that prepared her to become a sci-fi star.
Star Trek: Enterprise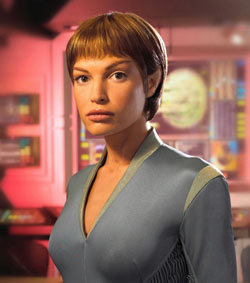 In 2001, Jolene won the role as Vulcan Subcommander T'Pol. Jolene found the transition from modeling to acting quite an adjustment, saying "I'm jaded by my experiences in the modelling industry. You're never skinny or perfect enough, and it was difficult mentally making the transition to acting." Now that she was no longer expected to hover five pounds above organ failure, Jolene was free to let her acting become a focus secondary to her body. She made this clear in an interview, stating "I'm here for the character rather than the va-va or the voom."
Later that same year, her then-boyfriend, Eddie Furlong, was arrested while driving her vehicle. After getting the car out of the impound lot, the couple were immediately involved in another accident. While the accident was not serious, they were being chased by paparazzi and the police came in response to a large crowd of curious onlookers. While some sources claim alcohol was was involved, Jolene stated that the issue was simply confusion over a lost registration and an expired tax stamp.
In 2002, Jolene appeared in Playboy magazine. While her spread was clothed and considered more fashion than soft-core porn, the photos helped bring her to the forefront of mainstream media. Jolene was no longer just for the science fiction community. Fans of Playboy were also encouraged when Jolene stated, "Nudity is natural but not until a person accepts and loves who they are." She has not done an unclothed spread to date.
During the 2003 season, Jolene also guest-starred on two episodes of Stargate SG-1 as Ishta, a member of a symbiotic race called the Jaffa. In April of same year, she married Michael Rapino, the CEO of Live Nation. She scorned the convention of waiting for him to make the move, proposing to him in Jamaica with both of their families present.
The series ran for 98 episodes, all of which Jolene appeared in. As with all Star Trek productions, the days were exceptionally long and make-up took hours. Her ears, hair, and catsuit meant that she had to report early each day and spend extra time each night having everything removed. This turned out to be a blessing in disguise, as she later said:
"Without my Vulcan cat suit, Frankenstein wig and pointed ears, I don't get recognized. I love the fact I'm a shape shifter who can go unnoticed."
Beyond the Final Frontier
Once Enterprise wrapped, Jolene began making the rounds on the convention circuit, giving interviews and signing autographs. In 2008, she took the roles of Captain Lola Beck in Starship Troopers 3: Marauder and had a one-episode engagement as Feratelli Porter on the popular police procedural CSI: Miami. The next year, fans of House saw her in the episode 'Teamwork' where she played Lexa.
2010 was a big year for Jolene both professionally and personally. She appeared on the short-lived series Legend of the Seeker, based on the popular series of novels by Terry Goodkind, and well as the thriller film Sinners and Saints. On May 25th, she and her husband welcomed their first child, a son they named Ryder James Rapino. Sometime before the birth, Jolene had legally changed her name to Jolene Ava King Rapino.
Only in her mid 30s, Jolene has many more years to entertain and delight us. Will she continue to work in sci-fi? What about some more steamy, but tasteful, photos? Only time will tell. Jolene is definitely within scanning range for years to come!
Related Posts :